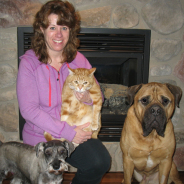 Dianne graduated from the Western College of Veterinary Medicine in Saskatoon in 1995. She has had the opportunity to gain experience in numerous small animal clinics by working initially full-time in the northeast of Calgary, then locuming (relief work) around Calgary before finally settling in Okotoks. She feels she has not only learned different ways to practice medicine but also various ways to run a clinic. She is the sole owner of the Animal Care Centre and while she finds it challenging some days to run the clinic as well as be the...
read more
Robyn was born in Calgary and at an early age moved to St. Albert where she was raised. She has always been interested in animals and began volunteering at multiple veterinary clinics where she found her calling to be involved in the veterinary industry. She then went on to receive her Animal Health Technologist Diploma from Fairview College in 2012. She completed her practicum with us and has been working here since. Over the years she has obtained a small zoo of critters which includes multiple fish tanks, bearded dragons, love birds, sun...
read more
Alyssa is one of the technologists at the clinic. She was raised on a farm outside of Okotoks where she has had multiple farm cats and dogs over many years; this was where her love for animals began. When Alyssa was in university she adopted her cat, Reece, and now her family and friends frequently call her a Crazy Cat Lady. Shortly after adopting her cat she decided to change direction and pursue her Animal Health Technology diploma from NAIT. In her spare time, Alyssa enjoys playing guitar, reading, crocheting, and taking her farm dog,...
read more
Louise has been involved with animals all her life and was that child that was constantly bringing animals home to "take care of". After 20 years in the oil patch as an Engineering Technician, she realized her real passion was companion animals. Louise has been involved in fostering dogs, was a kennel manager and spent time working for an animal rehabilitation clinic. She was born in Calgary and has lived in Okotoks for over 20 years with her husband and 2 children, and is currently working towards the title of "crazy cat...
read more
Shaylee is a veterinary assistant, originally from Halifax, Nova Scotia, where she volunteered and worked in all aspects of the industry. She has now been in Alberta for 3 years, working in various veterinary clinics. Growing up with 4 dogs, 3 cats and a horse sparked her passion for animals. At a very young age, she would take the neighbour's pets and bring them home trying to convince her mother they were strays. Mom always knew better and would make her return them! She is currently working towards becoming a Veterinary Technician...
read more